Junior Pirates Camp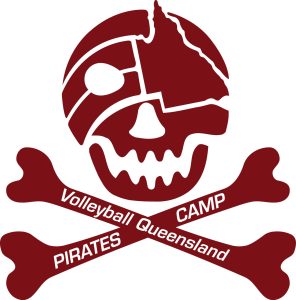 Junior Pirates Camp is an introductory camp designed to teach the basic skills of volleyball. From beginners to trained athletes (Years 7 to 11), the camp is a great opportunity for students and new coaches to refine their techniques while having some fun in the school holidays.

CAMP DATES – Our next camp will be held in the 2024 January School holidays, Date TBC. Please sumbit your Expression of Interest to attend one of our camps in 2024!
Pirates camp expression of interest

FORMAT:
Two volleyball sessions of 1h 20 min each with two 1h 20 min breaks in between
Male camp and female camp alternate sessions on court (i.e. when males are playing volleyball, females are on break and vice versa)
Educational sessions during one of two breaks (e.g. refereeing, volleyball pathways, strength & conditioning, etc.)
SAMPLE SCHEDULE – DAY 1:
8:00am – Female Camp arrival and check-in
8:30am to 9:50am – Female Camp volleyball session 1
9:20am – Male Camp arrival and check-in
9:50pm to 11:10am – Male Camp volleyball session 1 & Female Camp – Volleyball Pathways
11:10am to 12:30pm – Female Camp volleyball session 2 & Male Camp – Volleyball Pathways
12:30pm to 1:50pm – Male Camp volleyball session 2 & Female Camp – Break for lunch
1:50 to 3:10pm – Female Camp volleyball session 3 & Male Camp – Break for lunch
3:10 – Female pick-up
3:10 to 4:30pm – Male Camp volleyball session 3
4:30pm Male Camp pick up

*NB: VQ memberships are yearly and expire on 31 of March each year. To become a VQ member or renew your membership please visit our membership page. 
Keep up with this event and share your own updates on social media using #volleyballqld #vqpiratescamp.
For further information contact VQ.
COACH APPLICATION

Court Coaches:
Junior Pirates Camps provide coaches with a paid coaching opportunity to help develop athletes in Year 7-11. During the Camp, coaches have the opportunity to develop their skills as well as their communication, coaching techniques, drills & skills or tactical positioning.
The Lead Gender Coach is in charge of running the camp and developing the coaches allocated to their camp (court head coaches and court assistant coaches). The Camp is structured so that coaches meet their Lead Gender Coach at the start of each day to go though the plan, run volleyball sessions with athletes, attend coach development sessions and debrief during breaks.
The expectation is that coaches be available between 7am and 5pm for the duration of the Camp. Coach remuneration will vary based on the accreditation level and the role at the camp ($90 – $135 per day).
Lead Male & Female Camp Coach:
The desired applicant will hold a L3 coaching accreditation and significant coaching experience at a State and Junior Development level. They will also have significant experience in coach development and has been in mentoring roles.
The main responsibilities of the role are:
working collaboratively with the other gender Lead Camp Coach
developing specific and detailed session plans for each 1h 20 min session for the duration of the camp
overseeing the courts run by the coaches
coordinating and communicating with coaches allocated to the camp
developing and running coach development during two of the three 1h 20 min breaks in line with the outline provided by VQ
provide coaches with training plans and resources ahead of the camp
briefing coaches pre and post Camp
To express your interest in coaching at our next camp, please submit your EOI below.